First Steps
Assume that you installed and activated Flow-Flow plugin as described in 
Installation
 article. Let's navigate to the WordPress Admin Panel and setup our first Stream.
Authenticate your site with Social Network
Some social networks require auth keys for (sic!) your website before you can pull any content from there. At the time of this writing authentication part is necessary for Facebook, Twitter, Instagram and Google+. If you want to stream content from any of these networks you need to setup it accordingly to specific SN terms. This settings must be stored under Auth tab. We strongly recommend to start with this step.
Further reading: Setup Social Networks
Creating your first Stream
Open plugin's page and make sure Streams tab is active.
Click Add Stream button. We'll be moved to new Stream's settings page.
Start with naming your stream and adding first feed to your Stream.
Click the button Add social feed.
Choose social network and setup feed accordingly to simple rules described with visible hints. Don't ignore them because it's the part of common mistakes.
Click Add feed. We'll be moved back to Stream's settings page. Now you can see that you have your first feed associated with current Stream.
From this point your settings is done if you don't really need any further customization. You can save it, then go back to the list and here we go. Now you see the table with newly created Stream and shortcode for it.
Inserting Stream on page
Paste shortcode (found on admin page on streams list) whenever you want. You can create empty page and paste shortcode there. Here is more info about Shortcodes. Also you can find helpful this tutorial on WPKube on using shortcodes with Flow-Flow.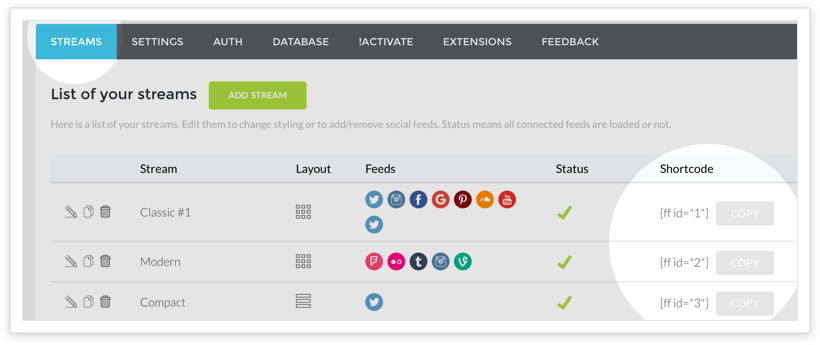 Styling hints and tips
You can "disable" separators by choosing the same color for Card background color and Separator line color. In the same way it's possible to "disable" shadows for Classic theme. You need to match Card shadow color with Stream's Containter Background Color.
If you wish to achieve optimal responsiveness on the whole page (it means: no additional container for Stream on page) then we recommend following settings. Find Card Dimensions and change width to 238 and margin to 15.